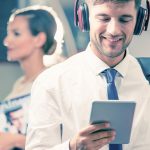 Adequate support and some helpful commuting hints can go a long way. By controlling another stress producer of your daily routine you can actively manage your tension and discomfort. Not every option below may be applicable, but attempting just a few will surely help.
Minimize sitting to a 30 minute maximum to reduce low back pain.
For bags held on one shoulder, do not exceed 10 pounds for longer than 10 minutes on one side.
Be sure to raise electronic devices or periodicals closer to eye level to reduce neck  pain.
Seat back electronic device holders are another good option.