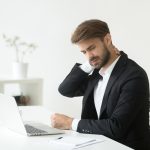 Are you tired of the daily aches and pains felt while at work? Trouble with your standing work station? Assessing how we function in both our professional and personal lives is incredibly important to reducing stress on the body. It only takes a few short weeks to develop poor habits and a lifetime to suffer from them. Therefore, it is important to take a step back from your routine and simply ask one question. WHY?
For years we have assisted both institutions and individuals alike to correct basic flaws in the way you operate. We are simply fighting the forces of gravity through our daily routine. Shouldn't we just apply some basic common sense to the situation?
Our Corporate Ergonomics program is a flexible approach designed to fit the needs of both the organization and the associate. We offer lunch and learn presentations for groups of up to 250 people designed to educate the masses on workplace injury prevention. Additionally, we also specialize in the one on one workspace assessment to optimize function within your existing space. Ergonomic hardware requires some instruction and advice on best practices. Buying an expensive bat does not guarantee you'll hit home runs!
Please email Dr. James Adams Jr. (James@MSMWellness.com) to inquire if ergonomic consulting is right for you or your organization.